This post is about the existence of Google Sandbox. I have done a small test which tells me whether Google Sandbox exists in 2020.
What is Google Sandbox?
There is still a belief in the SEO world that Google does not rank new domains. This means that you have to wait for a few months before Google starts ranking your website. Some people say it can take about six months and others say it can take one year. So this is the period when Google keeps your website in a testing phase called the sandbox.
Due to this belief, a lot of people assume that they should not take a risk with new domains. We won't be talking rankings for old domain vs rankings for brand new domains because it also depends on the backlinks which the old domain would have gained over a period of time.
The Google Sandbox Experiment
I registered two brand new domains on September 16th 2020. The domains are www.DotComBlog.net and www.DotComBlog.org.
Both domains are hosted on the same server, both have websites made with WordPress, and both have the default WordPress theme.
Both websites have only one plugin (Classic Editor) installed and activated. No other plugins have been installed.
The First Domain
On DotComBlog.net, I took a post which was written for one of my old blogs. The domain for that blog expired last year, and I did not renew it. The post was de-indexed by Google long back.
Why did I choose this post? The post was ranking when it was published back then, and hence I thought it would be the right candidate for the test. The post can be seen live on the .net domain.
So I made the post live without any keyword research optimisation or backlinks. The only thing I did was to add the website to Google webmaster tools. After making the post live, I indexed it through Google Search Console and waited for about ten minutes.
After ten minutes, I searched for the title of the blog boost and it was ranking on position 20 on Google.com desktop results. The post ranks at no.23 today. Here's the screenshot:
Is this a competitive keyphrase? Not really. But without any optimisation and after three days, the post still maintains its position around position 20.
The Second Domain
For www.TheDotComBlog.org, I chose my full name to rank for. There were no search results for my full name when searched in quotes when I created the website. Here is the screenshot was taken on September 16th 2020.
Just like the .net domain, I wrote a new post around my full name and got it indexed at Google Search Console. The post was immediately indexed and was ranking no.1 for my name in quotes.
Without quotes, the website ranked at 16th position. As of today, here is what Google shows for my full name searched without quotes.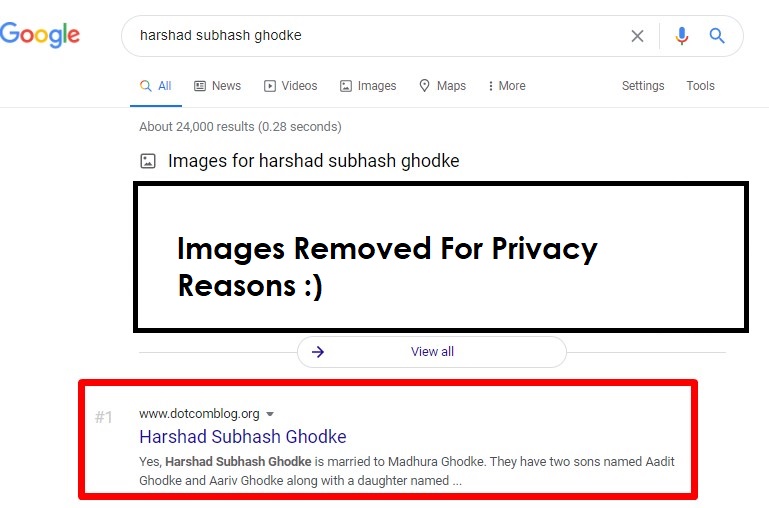 Does Domain Name Age Matter?
Not really. My experiment shows that I can rank a brand new domain on the first position of Google. What really matters is the competition.
So yes, an old domain which has developed some good backlinks over a period of time might get an edge over a new domain which has very few or no backlinks.
I have seen a lot of people using expired and dropped domains to rank high. Does Google rank these pages because the domain name is old? I don't think so. The domain name might have got backlinks over a period which increases its authority and makes it rank high.
Having said that, good on-page optimisation can also beat a page with quality backlinks. The Google algorithm is complex and results may vary depending on lot of factors. Now, we are seeing that Google is not giving as much importance to backlinks to rank pages as it was earlier.
Conclusion:
So what does this test tell me? Does Google Sandbox exist? I don't think so.
To me, Google treats every domain and page equally. When it comes to ranking, factors like keyword difficulty, on-page optimisation and backlinks will determine which page should rank high.
Google does not look at the age of the domain or the website to rank pages.
With this experiment, I would safely conclude that as of Sep 2020, there is no Google Sandbox.